Simple, transparent pricing
Experience accurate diagnosis and envision your future project with our unparalleled expertise in design services
If you have a clear vision of what you want to achieve and have a standard deck, you can use visualization techniques to make your idea a reality.
You are in search of a unique and innovative design, a personalized area that reflects your individual style, and a visual representation of your completed outdoor living space.
You wish to gain full visuals of your outdoor project by utilizing our design team's expertise to create a thorough depiction of your project in its completed form.
With its user-friendly interface and extensive library of customizable features, our 3D Deck Design software is perfect for homeowners, contractors, and architects alike.
3D Deck Design software provides users with a wide range of materials to choose from, including different types of wood, composite materials, and even stone or tile options. This allows homeowners to see how different materials will look on their deck and make informed decisions about which materials will best suit their style and budget.
Furthermore, users can add furniture and accessories to their 3D deck design, such as outdoor seating, dining sets, umbrellas, and even grills or fire pits.
This feature allows homeowners to see how their chosen furniture and accessories will fit and function within the deck space, ensuring that they create a functional and aesthetically pleasing outdoor living area. The ability to adjust the layout and dimensions of the deck is another valuable feature of 3D Deck Design. Users can easily modify the shape and size of the deck to fit their specific needs and preferences. Whether they want a small, intimate space or a large, multi-level deck, the software allows for easy customization and experimentation.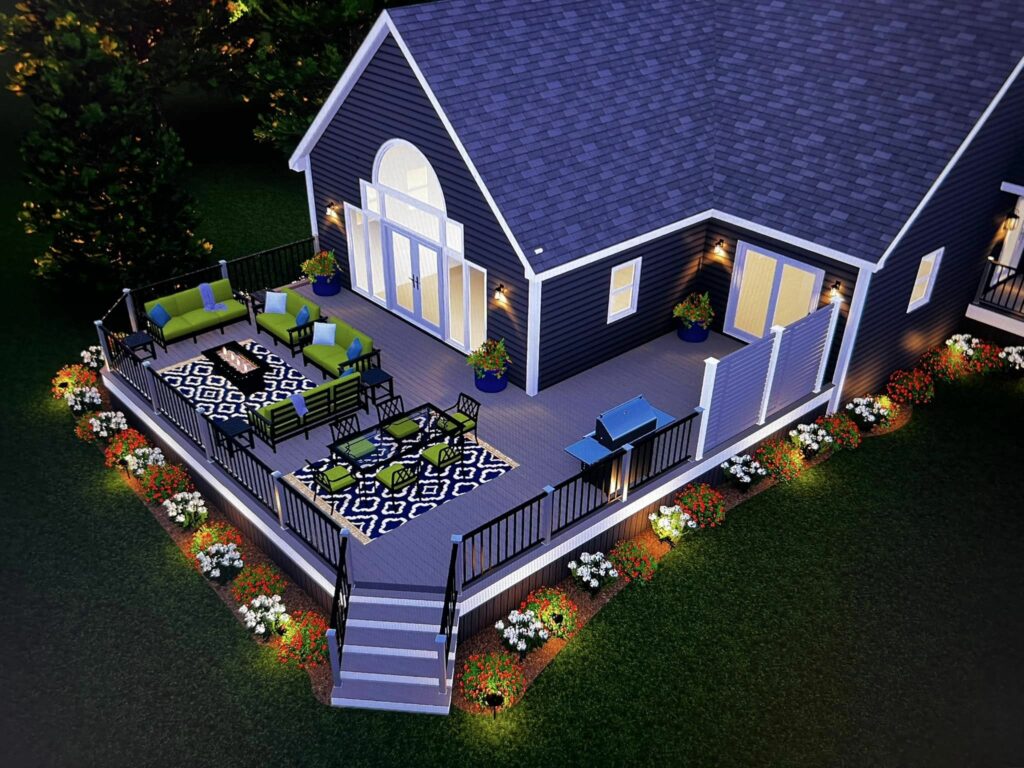 Experience that comes with affordability
As the sixth largest deck builder in the U.S*., we know decks! Our years of cumulative experience mean we understand all the little touches that make a huge functional and visual impact for a low cost. Built-in planters, seating and storage can often heighten style while costing less than if purchased separately. We're dedicated to bringing you the highest quality and exquisitely finished details, while working with you to make your project affordable. Our team of 30 carpenters and crafts people make sure that the job is done right and within budget.
Everything you need to know about the design services.
Depending on which tier you choose you can expect to receive your design anywhere from 1 – 4 weeks.
Designs can be changed in the value plus & premium options listed above.
The Value Plus & Premium Design options include accessories being added to the deck.
Be the first to know about 
upcoming projects
Stay ahead of the game with exclusive project updates. Be the first to know, simply enter your email.

Begin your project with ease using our user-friendly tools. Utilize our project estimator or inspiration gallery to jumpstart your creative process. Start now and achieve your vision.