Select from our extensive range of railing options.
Wood deck railing is a popular choice for homeowners seeking a stylish and functional addition to their outdoor living space. Crafted from high-quality wood materials, this railing option offers durability, aesthetic appeal, and serves as a safety feature. Whether upgrading an existing deck or building a new one, wood deck railing is a reliable and sophisticated choice that elevates the overall ambiance of the outdoor area.
Value Wood Railings are an affordable option for those seeking an entry-level solution.
Value Plus Wood Railings (Metal Balusters)
Value Plus Wood Railings with metal balusters are a cost-effective and eye-catching option for entry-level customers.
Premium Wood Railings offer a wide range of eye-catching design options and exceptional durability.
Vinyl deck railing refers to a type of railing system that is constructed using vinyl material. This railing option offers numerous advantages, including durability, low maintenance requirements, and a sleek appearance. Vinyl deck railing is designed to withstand various weather conditions, making it an ideal choice for outdoor spaces. With its easy installation process and minimal upkeep, vinyl deck railing provides a practical and visually appealing solution for enhancing the safety and aesthetics of any deck or outdoor area.
Value Vinyl railing offers a sleek and clean look at an entry-level price.
Value Plus Vinyl Railings
The vinyl railing from Value Plus offers a stylish and durable appearance.
Composite deck railing is a type of railing that is made from a combination of materials such as wood fibers and plastic. This type of railing is known for its durability, low maintenance, and resistance to rot, insects, and weathering. Composite deck railing is available in a variety of colors and styles, making it easy to find a design that complements the overall look of your deck. Whether you are building a new deck or updating an existing one, composite deck railing is a great choice that will provide years of enjoyment and value.
With its many benefits, composite deck railing is a great choice for those looking to enhance the appearance and functionality of their outdoor living area.
Value Plus Composite Railings
Value Plus is an excellent choice for those looking for a durable and stylish option. With its sleek and modern design, it is sure to enhance the look of any deck or outdoor space.
Premium Composite Railings
 Whether you're looking to upgrade your existing deck or build a new one, our premium composite deck railing is the perfect choice.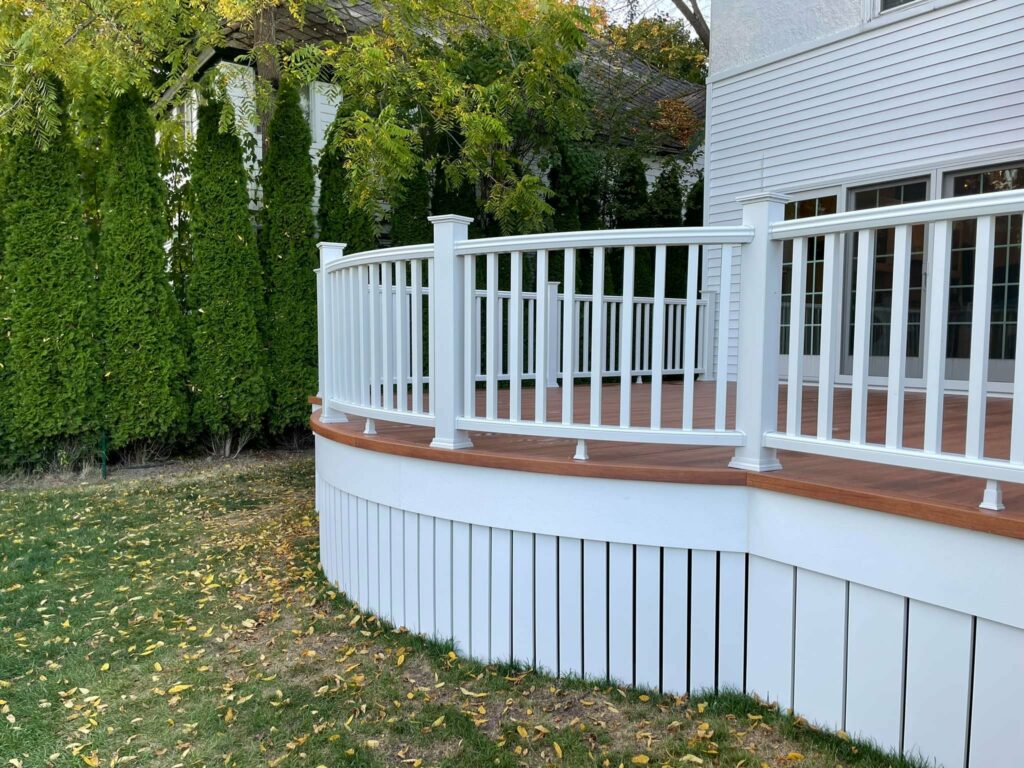 Compare Composite Railings
Aluminum deck railing is a durable and stylish option for your outdoor space. The use of aluminum ensures that the railing will not rust or corrode, making it a low-maintenance choice. Additionally, aluminum railings are lightweight and easy to install, making them a popular choice for DIY projects.
With its resistance to rust and corrosion, aluminium deck railing is a smart investment that will enhance the safety and beauty of your outdoor living area for years to come.
Value Plus Aluminum Railings
With its sleek and modern design, this railing not only enhances the aesthetic appeal of any deck but also provides a safe and secure environment.
Premium Aluminum Railings
Its premium construction ensures long-lasting performance, with resistance to rust, corrosion, and weathering. The aluminium material also makes it lightweight, making installation and maintenance hassle-free.
Compare Aluminum Railings
Cable, Rod, & Glass Railings
These railing options provide a modern and sleek aesthetic to any deck or outdoor space. Cable deck railing consists of stainless steel cables that are tensioned between posts, creating a minimalist and unobstructed view. Rod deck railing features metal rods that are vertically installed between posts, offering a contemporary and industrial look. Glass deck railing utilizes tempered glass panels that are secured within a frame or posts, providing a sophisticated and transparent barrier. Each of these railing options can be customized to fit the specific dimensions and design preferences of the deck, ensuring a visually appealing and safe environment.
Our Premium Cable Railing system is meticulously crafted using top-grade materials, guaranteeing its longevity and resistance to wear and tear. With its minimalist design, this railing solution seamlessly integrates into various architectural styles, enhancing the overall visual appeal of residential and commercial properties alike.
his type of railing is designed to provide both functionality and aesthetic appeal to various architectural and interior design projects. The rods used in this railing system are typically made of high-grade metals, such as stainless steel or aluminum, which are known for their strength and resistance to corrosion.
With a focus on both functionality and elegance, our glass railings offer a sleek and modern look that seamlessly integrates into any architectural design. Whether it's for residential or commercial applications, our expert team of professionals is dedicated to delivering exceptional customer service and tailored solutions to meet your specific requirements.
Luxury Frameless Illuminated Glass Railings
The frameless construction allows for uninterrupted views, creating a sense of openness and modernity. The illuminated feature adds a touch of glamour, providing a soft and inviting ambiance. With our range of customizable options, you can choose the perfect size, shape, and lighting to suit your unique style and requirements.
Compare Cable, Rod, & Glass Railings
Everything you need to know about railing material.
Estimate Your Project Today
Get a rough estimate on the cost to build your dream deck with just a few simple questions.